Venue and Travel Information
Venue
Royal Orchid Sheraton Hotel & Towers, Bangkok, Thailand
2 Charoen Krung Road Soi 30 (Captain Bush Lane), Siphya, Bangrak, Bangkok, Thailand, 10500
Hotel Website


Transportation
From the Airport to the Venue:
Participants are requested to use public transportation facilities available at the airport. There are two main international airports in Thailand;
Suvarnabhumi International Airport (BKK)
Don Muang Airport (DMK)
The host would not provide a transfer service to and from the airport. Participants are requested to arrange their own airport transportation to the respective hotels. Public transportations and taxis are available at the both airports.
For more information, please visit:
https://www.bangkokairportonline.com/
From the downtown to the Venue:
By taxi
The most convenient way to reach the venue. You can also experience how bad the traffic congestion in Bangkok city is.
By public transportation
Take the BTS Silom Line bound for Bang Wa, and get off at Saphan Taksin Station.
From Saphan Taksin Station (BTS Silom Line)
The hotel provides free boat service from the Sathon Pier next to BTS Saphan Taksin Station between 10 a.m. to 6 p.m. every 1 hour and between 6.30 p.m. to 10 p.m. every 30 minutes.
The conference organizer will provide four shuttle vans connecting Saphan Taksin Station and the hotel (every 15 mins) during the following hours.

- between 7.00 – 9.30 am
- after session (5 pm)
- after dinner (8 pm)
Accommodation
1. Royal Orchid Sheraton Hotel & Towers
The conference discount rate is available here. *Chrome is recommended for the booking process.
NOTE: Due to the high demand for accommodations during the conference dates, we strongly encourage you to make your hotel reservations in advance as hotel bookings will be on a first-come, first-served basis.
| Rooms | Single Rate | Double Rate |
| --- | --- | --- |
| Deluxe Riverview Room | THB 5,000 net/room/night | THB 5,500 net/room/night |
Rates are quoted in Thai Baht (THB)
Rates include 10% service charge and applicable government tax, currently 7% on room rates and service charge, effectively a total of 17.7%. Hotel reserves the right to adjust the applicable VAT and/or tax according to any change in the government tax law or tax structure.
Rate Inclusion: Daily buffet breakfast, High speed internet access in guest room (up to 4 devices)
Check-In/ Check-Out Policy:

| | |
| --- | --- |
| - Check-In Time | 3:00PM of arrival date |
| - Check-Out Time | 12:00PM of departure date |

Early Check-In/ Late Check-Out Policy: Early Check-In and Late Check-Out are subject to availability at time of request.
Early Departure Fee: An early departure fee of 1 (one) day will apply if a Customer attendee checks out prior to the confirmed checkout date.
Room Drop: THB 120 net per room per time (if required)
Minibar Removal: THB 200 net per room per time (if required)
2. Budget hotels in the neighborhood
Bangkok has many hotels ranging from luxury hotels to B&Bs.
Below are hotels near the conference center. Reservations should be made on your own.
Intown Residence

Address
1086/6 Charoen Krung Road, Bangrak, Bangkok 10500
MAP
Price (Approximately)
900 THB
Distance
300 m. (4 min. walk)  Route map to the venue

Beanstalk Bangkok

Address
299 301 Thanon Surawong, Suriya Wong, Bangrak, Bangkok 10500
Hotel Website
Price (Approximately)
1,200 THB
Distance
900 m. (11 min. walk)  Route map to the venue

Novotel Bangkok Silom Road

Address
320 Silom Rd, Suriyawong, Bangrak, Bangkok 10500
Hotel Website
Price (Approximately)
1,500 THB
Distance
1,200 m. (14 min. walk)  Route map to the venue

Oriental Heritage Residence

Address
1180 Charoen Krung Road, Bangrak, Bangkok 10500
Hotel Website
Price (Approximately)
1,600 THB
Distance
600 m. (7 min. walk)  Route map to the venue

Aspira Gems Center Silom

Address
67 Mahesak Rd, Suriyawong, Banggrak, Bangkok 10500
Hotel Website
Price (Approximately)
1,700 THB
Distance
1,100 m. (14 min. walk)  Route map to the venue

Holiday Inn

Address
981 Silom Road, Bangrak, Bangkok 10500
Hotel Website
Price (Approximately)
3,200 THB
Distance
1,300 m. (17 min. walk)  Route map to the venue
3. Hotels in the downtown
There are many hotels in downtown Bangkok, such as in the Sukhumvit area, a dynamic and lively area of Bangkok. The area is one of the city's major shopping, dining, and nightlife centers and is home to some of the best restaurants, popular clubs, the largest malls, and the most luxurious hotels.
If you can manage transportation to the conference venue and it is not a problem for you, it is also a good choice for a place to stay.
About Bangkok
Bangkok is the capital and most populous city of Thailand. It is known in Thai as Krung Thep Maha Nakhon or simply Krung Thep. The city occupies 1,568.7 square kilometers in the Chao Phraya River delta in central Thailand and has a population of over eight million, or 12.6 percent of the country's population.
The city itself is a true tourist paradise. Bangkok has many tourist attractions, mostly historical attractions and temples with elaborate architecture and arts. There are palaces, museums, parks, and a wide array of shopping centers, from luxury malls to street markets.
Transportation within Bangkok could be easily by public transportation of "sky train (BTS)," subway (MRT), Airport Rail Link (ARL) and others.
For more information please visit:
https://www.tourismthailand.org/About-Thailand/Destination/Bangkok
Language
The Thai language is the official language and is generally used. However, many Thais also speak and understand English, though more so in Bangkok and the major tourist areas.
Weather
November is often regarded as the pre-winter season in Thailand. The temperature in Bangkok ranges from 25 to 32 degrees centigrade (Average: 30-degree Celcius).
Time Zone
GMT+7 hours.
Electricity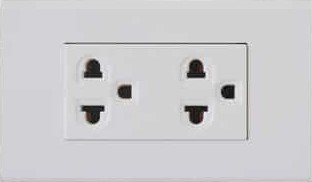 The standard power supply in Thailand is 220 volts. The standard frequency is 50 Hz. Power outlets most commonly feature two/three-prong round or flat sockets, as shown in the picture.
Currency
The Thai currency unit is Thai Baht (THB). There are five kinds of bills (1,000 THB, 500 THB, 100 THB, 50 THB and 20 THB) and six kinds of coins (10 THB, 5 THB, 2 THB, 1 THB, 0.50 THB and 0.25 THB) used. Only THB is accepted at stores and restaurants. Major foreign currencies may be exchanged to THB at foreign exchange banks at the International Airports upon presenting your passport. Thai banks are usually open Monday to Friday from 8:30 to 16:00. The exchange rate is 32.69 THB to 1 US Dollar (as of February 2023). Major credit cards are accepted by most hotels, restaurants, and department stores, but not small local shops.
Emergencies
Police (Hotline): 191
Tourist Police: 1155
Ambulance and Rescue: 1554
Insurance and Medical Emergencies
The host would not bear any cost of insurance for participants, medical or other expenses. The host, therefore, requests participants to make necessary arrangements for insurance and medical coverage before their travel.
Visa and Immigration Information
Nationals of certain countries are required to apply for a visa only at the Royal Thai Embassy or the Royal Consulate-General in their country of residence or at the designated Thai Embassy/ Consulate-General. Therefore, travelers are advised to contact the nearest Thai Embassy or Consulate General to find out if they are eligible to lodge the application. Information on location and contact number of Thai Embassies and Consulates-General is available at https://www.thaiembassy.org/.
Please visit the following websites for more information;
Advance submission of applications is highly recommended.
Rumpaipak Pinsuay
Senior Policy and Planning Officer
International Issues and Engagement Bureau, Academic Cluster, Office of the NBTC, Thailand
E-mail: rumpaipak.p [at] nbtc.go.th
Tel : +66-2-271-0151 (ext. 9366)